YEAR 12 RESEARCH ECONOMICS WEBQUEST
How can John Howard distribute a $500 million
drought relief package to stimulate the Australian Economy?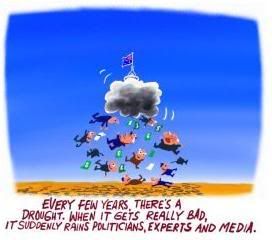 Author:
Anne Travis
Adapted information:
This WebQuest in original. However, some of the instructions have been adapted from the Petrov Affair WebQuest by Frances Moore of WebQuest Direct. This original WebQuest is at http://www.oph.gov.au/petrovwebquest/
Writing an economics essay has been adapted from a guide prepared by the Social Science Department St Francis Xavier College, Canberra.
Key Learning Areas:
HSIE / SOSE / Social Studies;
Grade Levels:
Secondary / High School;
Last Updated:
11 November 2006